Tattoo Books
A growing collection of tattoo books. Educational titles include Guy Aitchison's Reinventing the Tattoo, The Art Of The Leu Family, Chris Trevino's: Gods And Warriors, Shawn Barber's: Memoir, BJ Betts: Lettering books, Big Meas': Lettering books, Tattoo World, Dana Helmuth's: Venom & Nectar, Force in the Flesh 1 & 2, Michele Wortman's: Moments of Epiphany, Innerstate and Scratch Art.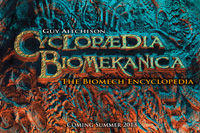 The Biomech Encyclopedia
By Guy Aitchison, featuring collaborative work by dozens of tattooists including: Nick Baxter, Dan Hazelton, Marco Velazquez, Aaron Cain, Mike Cole, Don McDonald, Jeff Croci, Ty McEwen, Adrian Dominic, Markus Lenhard, Leo Lavatori, Brad Bako, Chris Walkin, Evan Griffiths and many more!
Coming Soon!
Click here for more info

Now viewing products 1-4 of 4

Click on a thumbnail to see a detailed view.
Moments of Epiphany
Scratch Art: A Collection of Scratchboard Art by Tattoo Artists
Tattoo World by Marisa Kakoulas and Michael Kaplan
Pint Size Paintings


Now viewing products 1-4 of 4