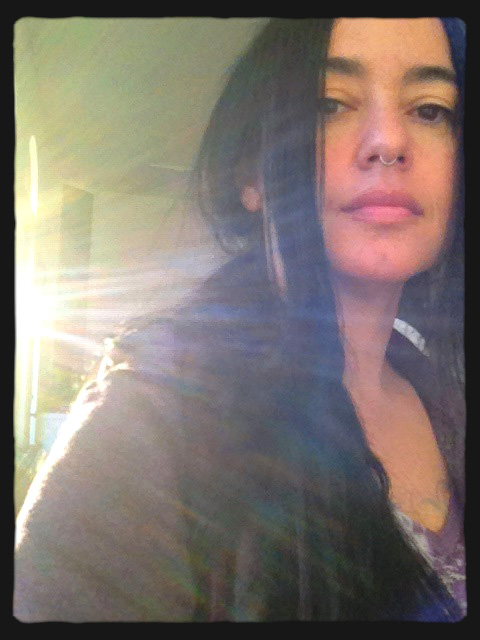 Michele Wortman is a multimedia artist. She tattoos, paints, takes pictures and writes electronic music. Though these mediums may vary, there is a common thread that glues them all together; they are all manifestations of her creative expression.
Michele began painting and drawing as a kid, then majored in art at Lane Tech prep school in Chicago before studying briefly at the School of Art Institute. It was there that she became acquainted with oil paint and the figure. Since those early days of artistic exploration Michele has gone through a variety of styles and interests. Her early work was darker and more expressionistic. Around 1992 she started dating tattoo artist Guy Aitchison. Her world became brighter and so did her painting style as it grew with more of a psychedelic flavor. This was the mid 90's. She cut hair at an alternative salon, Milio's, which featured a rich tapestry of creative people and bold style. When not doing hair, Guy and Michele shared a loft where they painted regularly together.
During this period of time Michele collected tattoo work which caused her to question herself. It did not sit right with her. She wondered what she was trying to get at, what was she wanting to say? She began to further self examine her identity as an artist. This, in turn, catapulted her style and artistic expression into a direction that changed her mindset, that changed her art. Looking at her paintings, she thought: "That's well painted, but do I want to hang it up? Do I want to look at it?" Looking at her tattoos, she thought the same thing: "Thats well rendered, but do I need the weight of black lines, rigidness of composition and extrinsic cultural symbolism?" Then everything went through a critical filter; with a new set of eyes, she began taking photographs to capture what she was drawn to. It was with this renewed lens of insight that Michele started to explore macro nature photography and to further assess what interested her. She stopped doing hair, moved to the country and began the art of tattooing, asking the very same question: "What do do I want to say, what do I want to see?"
Her photos served as inspiration for paintings and insight as an artist. Later,she released a collection of photography, Moments of Epiphany, in 2005. Her painting style continued to change as it became softer and smoother, a direct result of observations through photography. Her tattoo style evolved as well; by becoming better acquainted with her inward sensibility and what she was drawn to in nature, her work took on an etherial floral-form look embodying light, space, nature and beauty.
She began writing electronic music in 2000 as a way of creating a soundtrack for her imagery, releasing 4 CDs and one DVD under the title of Sunchannel.
Presently focusing on painting, tattooing and motherhood to daughter Kaia Rose, Michele is working on a new book showcasing her tattooing and how it relates to the female form, taking commissions for Zenscapes and continuing to explore nature as well as visionary inspired themes within her art.