New Michele Wortman Painting Now Available as a Print!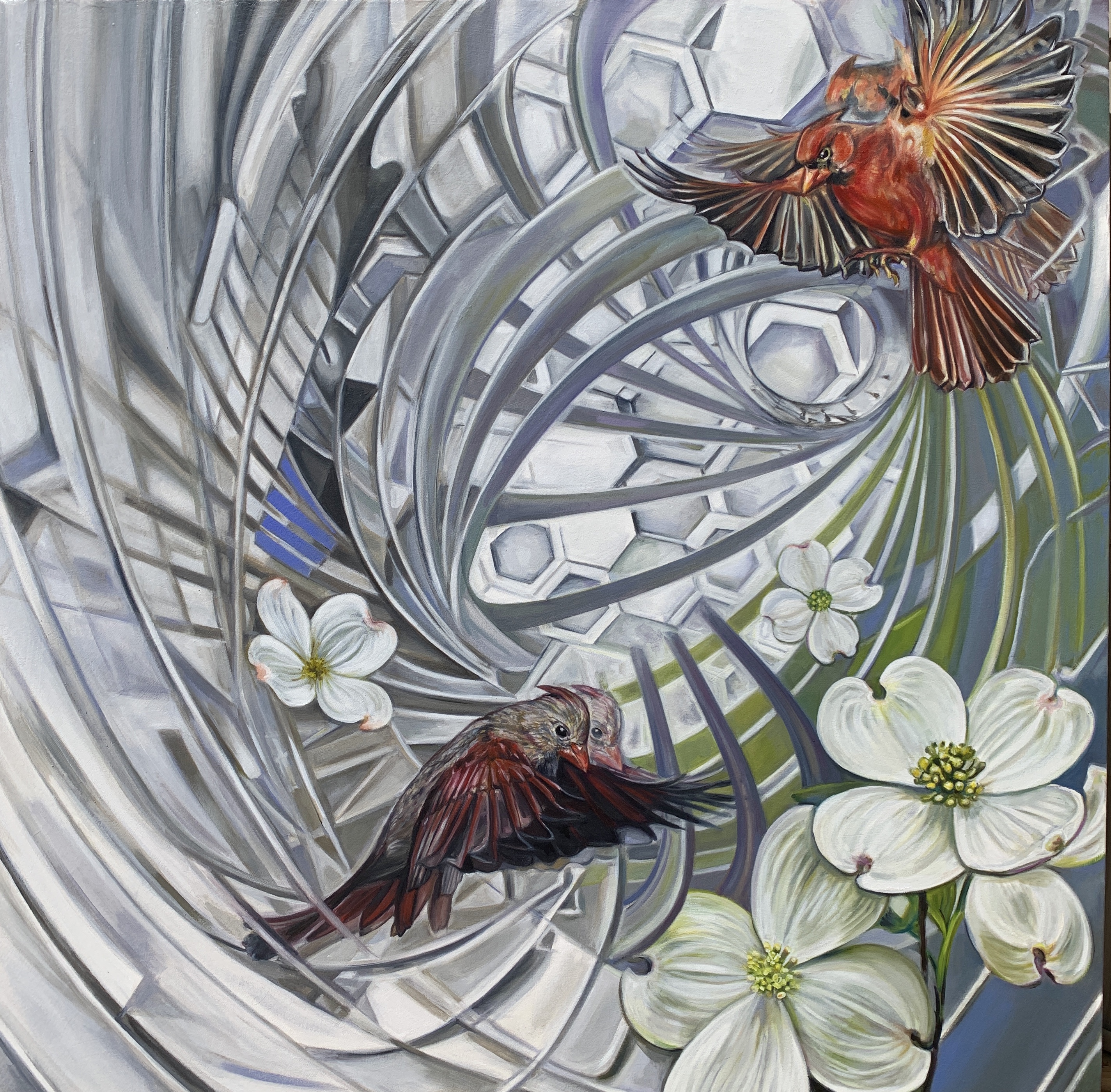 As the seasons shift and the cold wintery air turns into a green haze of renewal we'd like to introduce Michele's latest painting, Spring. This painting is about the shift of winter with its blustery grey ambience cycling into the warmth of spring. The female cardinal flies into the next season as the greenery emerges and Nature wakes from its winter slumber with budding dogwoods. At Hyperspace Studios we are celebrating that shift by offering a special edition print of Spring, 22x22" plus a colored border for mounting purposes, on archival canvas, signed by the artist. Produced in-house so we can get the color matching as exact as possible. Drop by hyperspacestudios.com/prints to be a part of this celebration!
Season's greetings from Hyperspace Studios!

t's that time of year again and we've got some new paintings to show you. Michele, whose birthday is on Christmas Day, loves to celebrate the holidays with beautiful imagery and make art that is affordable for you to collect or to give as a gift.
Her three recent works, Rose, Lotus and Peony, celebrate the magic and mystery in nature, with its connective patterns and floral flair. This aesthetic is parallel to her tattoo style and personal interest in the art she creates.
We are offering each painting as a reproduction on archival canvas, 8x10" plus a 1" colored border for mounting purposes, signed by the artist for an amazing deal of 25 bucks for the 25th of Christmas!. Shipping before Christmas is guaranteed on all US orders received by December 16th.
Give the gift of art this holiday!

ATTENTION!!
ATTENTION!!
WE WILL BE OUT OF THE OFFICE BETWEEN 11/16 - 11/27
Please note: If you place an ORDER between 11/16 - 11/27
we WILL NOT be shipping your order until 11/28
Any questions or issues will be taken care of on 11/28
If you are having a problem logging into your ReinventingTheTattoo subscription, please contact: TattooNOW at: management@tattoonow.com
Sorry for any inconvenience!!
New Website for The Bloom Project!

We want to tell you about a new and exciting website that's just been launched for Michele's Bloom Project. You can learn more about Bloom Project here and get involved by following its daily updates here. In celebration of this, Michele has joined forces with her friend and client Michelle Roberts who designed the website and is an active contributor to the project.

Michele recently designed two shirts, a rose and a lotus design from the Bloom Project in support of Bravely House, the nonprofit charity that Roberts works with.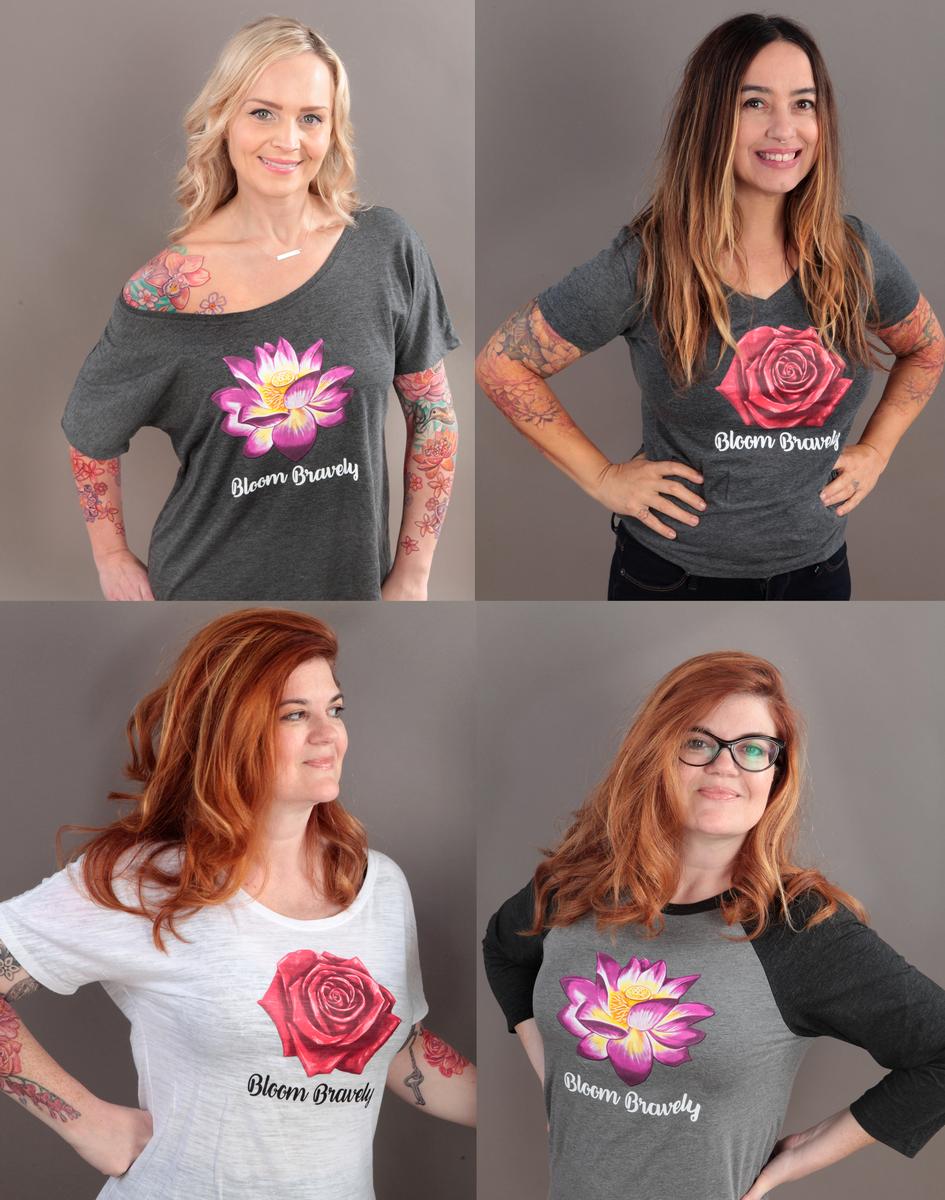 These comfortable, high quality fitted shirts make a great statement for strong women everywhere, and help fund the ongoing work that Bravely House does in helping the women in its community.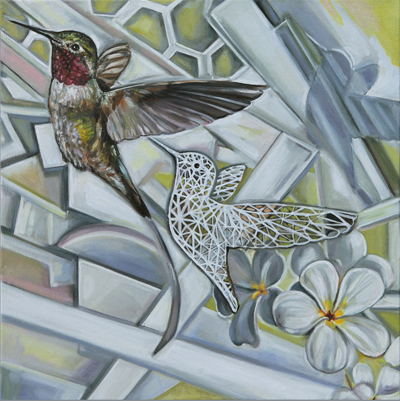 Finally, as the fall season is upon us and the hummingbirds get ready to leave for warmer weather, we are offering Shapes and Planes. This painting is about shifting moments in abstractions of space and time, a theme that Michele enjoys exploring. You can find more examples of her unique painting style in the Hyperspace print gallery .

Michele's New Print Celebrating Hummingbirds!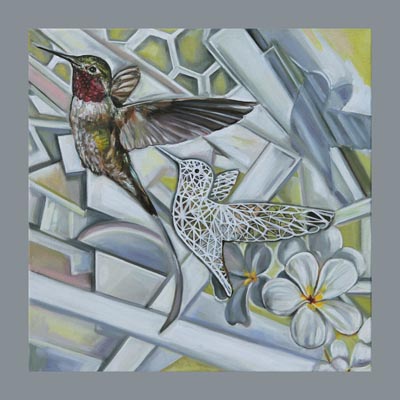 We sure did enjoy this past summer... and one of our favorite features of summertime are the hummingbirds dashing around the yard, flashing their brilliant iridescent colors. Now they are in their final few weeks before packing up for the year and making their difficult flight across the gulf. To celebrate these amazing creatures, Michele painted Shapes&Planes, pictured here, combining hummers with her distinctive use of abstract geometric forms. This piece is available as a low-cost signed archival canvas print at Hyperspacestudios.com/prints, along with a wide range of other fine art prints, most which are color matched and produced in-house here at Hyperspace Studios.