Available In Time For Christmas: Michele's New Hand-Retouched Metal Prints
Happy Holidays,
As we close 2014 with a celebration of the season and welcome the New Year I thought it would be a good time to offer some of my favorite recent paintings to add to your art collection as unique prints on sheet aluminum. Several of these I have taken further by repainting the ferns, flowers and other details directly into the print making each one an original mixed media piece. You can see the detail examples below. The overall look is modern, shimmery and ready to hang. The surface, both reflective and painted, adds to the dimensional shift of luminosity. These would look great as a grouping or as individual pieces.
I also have a collectors' card set for only 5 bucks featuring a nice sampling my paintings, a perfect stocking stuffer.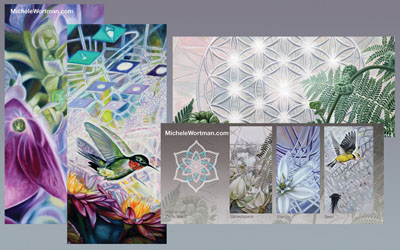 Shipping in time for Christmas is guaranteed for all orders received by December 16. Thanks, and have a great season and happy New Year!
New Hyperspace Studios Video And Michele Wortman Card Set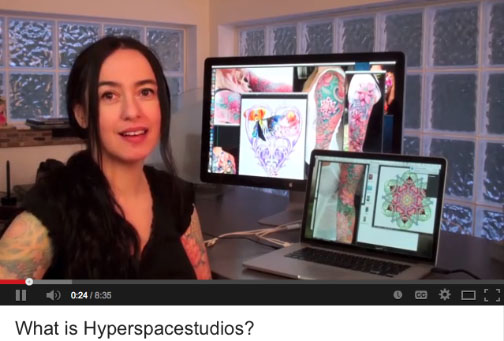 Have you seen the video that Guy and I put together recently? In it we discuss our art, what we do, what motivates us and the things we hope to accomplish. This includes a little about our artistic styles, including Guy's biomech, and how I arrived at the unified feminine style that I'm known for. You can see it at our YouTube channel, TattooTelevision.
I've just put together a
new postcard set
featuring some of my favorite recent paintings. The set by itself includes two 2-sided oversized cards, and are a great low-priced collector's item. I'm also offering them along with my two most recent Sunchannel CDs in a
discounted package
.
Sunchannel
is my electronic music project.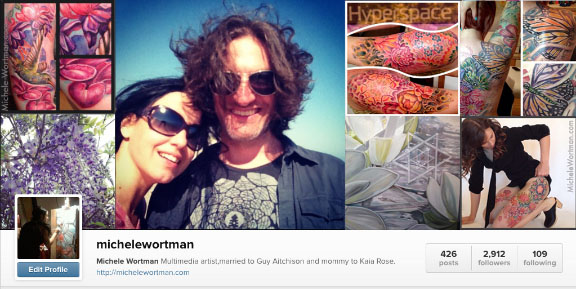 I also wanted to mention that I'm booking late Summer and Fall appointments now. If you're curious about collecting work you can come to the
Appointments link
at my website for more information, or to book a slot. You can see my work here at
www.MicheleWortman.com
, and you can follow me on
Instagram
to see shots of in-progress work and other fun stuff.
Thanks, and I'll be in touch soon!
Woodland Window Filigree and Floral Bodyset
Greetings and welcome to winter. I have been busy inking body sets over the past few months on many of my regular clients as they continue to refine and expand their collection.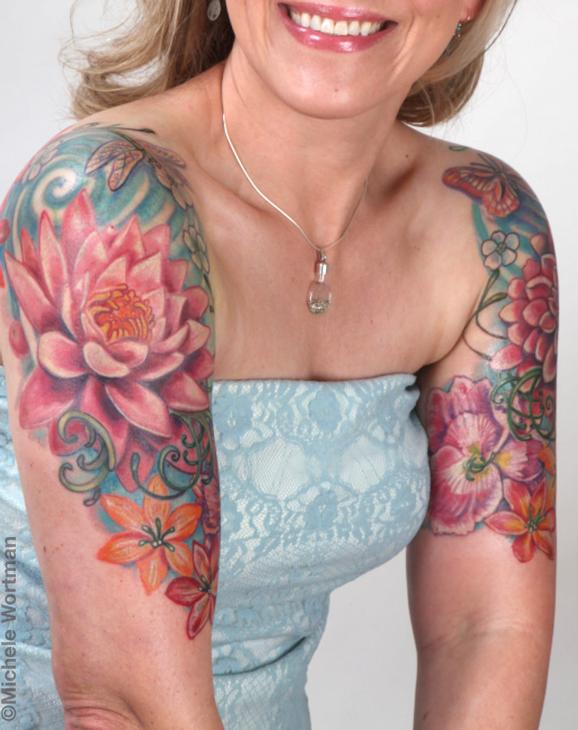 Here is a recent video featuring my client Sabrina and her Woodland Window Filigree and Floral Bodyset.
Sabrina describes her process of getting lasered to collecting a cohesive overall look and talks about the new direction many women are taking as they explore a decorative aesthetic while maintaining a professional image in the workplace.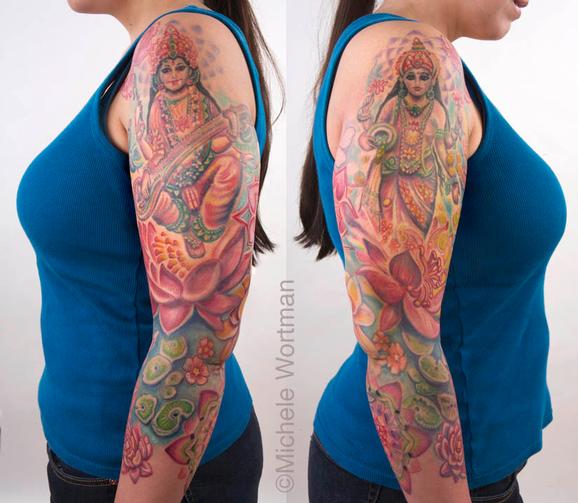 Also check out this short video portrait featuring the Goddess body set on Charity that I just finished working on. Listen as she shares her insights on the feminine and finding your inner Goddess.
If you would like to join our mailing list to find out more about our Hypercasts and other Hyperspace related updates Click here.
Flight and Flowers Bodyset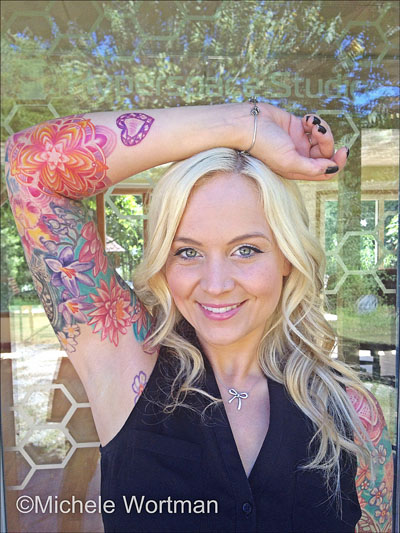 I just worked on Jenns Flight and Flowers bodyset. We inked some luminous cosmic mandalas, started filling in the elbow area and added purple heart gems to the inner arm.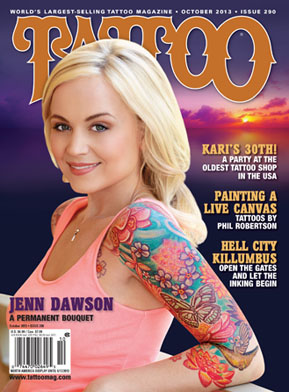 This month Jenn is featured on the cover of Tattoo Magazine issue 290. Be sure to check it out while it is still on the newsstands.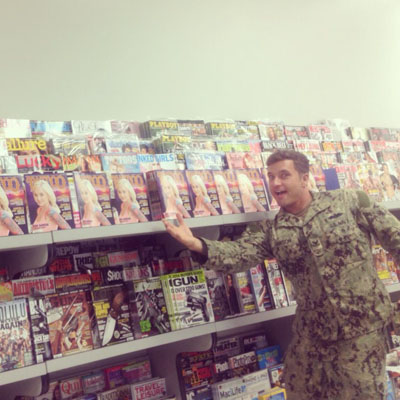 I also interviewed Jen about her tattoos and philosophy and put together a short video which talks about the process of collecting work from me and describes the intention and content of the art from a collectors perspective.
Innerstate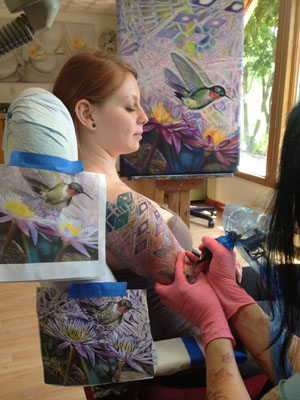 Just finished an exciting two day session on Alexis. She asked me for a half sleeve based on a painting I did in 2009 called Innerstate, titled after a live performance that we hosted where tattooists were invited to explore the inner realms of their unique vision to better channel a personal style by exploring a more visionary approach to their artwork. Be sure to check out Innerstate an amazing book and documentary produced by artist Guy Aitchison.
It felt natural to reference my painting and as a result subtle nuance with color and texture made its way into the tattoo that might not have occurred in the same manner otherwise. I like the way all the shapes landed on her arm and how it moves with her figure. I really enjoy the symbolism and cerebral qualities of this piece and am so honored to have a chance to tattoo this on Alexis.
We are off to a good start, here are some pics from her recent session at Hyperspacestudios.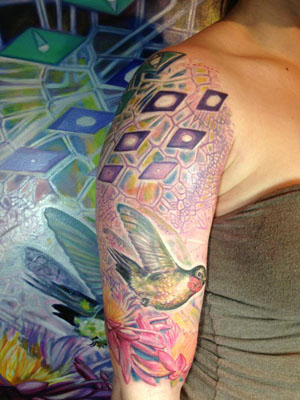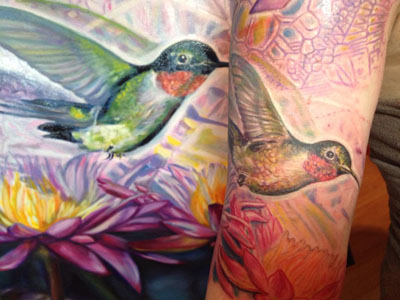 Cosmic Mandala set in progress
Greetings from the land of Hyperspacestudios where I just finished a marathon tattoo session inking a cosmic mandala bodyset on my client Lesyle. I put together this on the fly video from phone clips to try and capture a piece of this magical transformation to share with you. Though this is only the first pass it is off to a great start and I look forwards to the next session. The music in the video is by H.U.V.A Network, Orientations pt 2. This track was playing in the background while doing this piece and so appropriately reflected the feeling and energy of everything in that moment. Hope you enjoy the video and to post some more work sessions soon.

New website!
Greetings, and welcome to MicheleWortman.com. This is the first blog at my new site. Here you can take a look at paintings, bodyset and singular tattoos for women, and photography of subjects that inspire me, along with a collection of figurative sketches that I have done over the years. You can also listen to my music project Sunchannel and check out the music videos.
Recently I was featured in Inked Magazine discussing the distinct approach to tattooing that my work is known for, and colorful partnership with fellow artist Guy Aitchison, the other half of Hyperspace Studios. Here's a brief excerpt from the article:
INKED: Would you say your style is more feminine?
MICHELE: It's interesting you should say that because, originally, I had wanted a half sleeve of flowers and this girl looked at me, rolled her eyes and said, "You would get that. How typical of you." That bothered me, so I decided I would rebel against my "feminine nature" and get architecture, which is very masculine in my opinion, very man-made. The fact that I rebelled against my feminine nature in the beginning only to come back to it later was an interesting lesson for me...
(Read more)
I am currently taking new appointments for spring and summer, as well as painting commissions.
Stay tuned, join my mailing list, and check back regularly to see updates to the site and my latest blog.
Thanks and happy winter,
Michele Wortman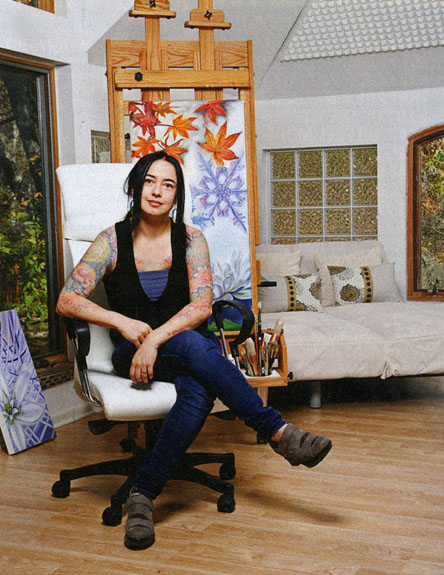 Photo by David Torrence